If you have a student in college or one who will attend college someday, you NEED to see God's Not Dead—opening in theaters across the nation today.
I had the privilege of helping promote God's Not Dead by screening it (though the screening got cancelled) in Northwest Arkansas. Circumstances kept the film from being shown but I did have the chance to watch the film and talk to those who came to the theater unknowingly.
Now, I preface my review by saying that I'm invested in developing apologetic skills so that I can train others (and myself) on being able to "make a defense of my faith" as God has instructed us to be prepared to do.
And, with three children just out of college (one is at the end of her senior year) I have come to understand that the main theme of the movie is real and lived out on campuses across the nation everyday. Our post (or anti)-Christian culture is presenting more significant challenges to students of Christian faith than at any time in our nations history. Left-leaning leaders lead most of our public universities, administratively and academically. I don't state that as a judgment but as an observation that is hard to deny. Christian students are judged before they ever get a chance to display their faith through their actions. They are castigated, demeaned and positioned by professors and campus leaders as crutch-holders, less intelligent and even dangerous. The list of lawsuits on behalf of outspoken Christian students is growing faster and longer each year. That's the backdrop of God's Not Dead.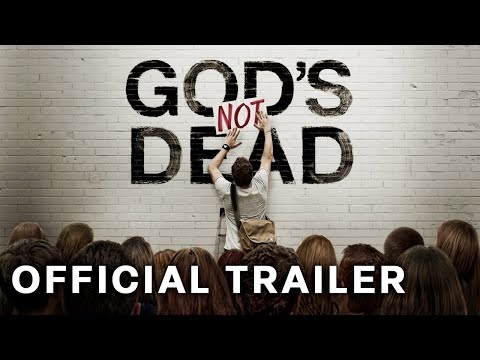 The film is set on a university campus where a student is registering for classes. His outerwear depicts his Christian faith. Upon registering for a particular professor's philosophy class, the student who is doing the registration warns the student about this professor's penchant for chewing up and spitting out Christians in front of the entire class, like those in the Roman Coliseum being fed to the lions. The student sticks to his choice and the movie begins.
Kevin Sorbo plays Professor Radisson, the atheist philosophy professor who enforces a rule in his class that every student must write three words on a sheet of paper in order to pass the class—God is dead—and sign their name to the paper. Every student starts writing this phrase on their paper and passing them to the professor, save one—Josh. Josh can't bring himself to write those words because he's a Christian and doesn't believe that God is dead. What transpires after this scene is a student's diligent preparation to take the challenge the professor has given him as a penalty for not signing that paper.
There are a number of side stories that all weave together in some fashion. And, Willie and Korie Robertson and the Newsboys make cameo appearances in the film.
I have to be honest and say that some of the side stories felt a little unnecessary or forced into the film and then went under or un-developed. I understand what the writers were trying to accomplish. Our nation has begun to wage war on Christians on many fronts and it felt that the filmmakers wanted to address as many of those issues as possible in the short time the film is on the screen. I must say that I may have seen a version of the film that has since been edited so maybe some of the scenes or stories were eliminated in the theatrical version. However, I didn't feel that those stories took any of the punch away from the main story of how Josh handles the Professor, the arguments he makes in class for the existence of God and support for his belief that God is NOT dead and the impact Josh's defense has on the classmates that are exposed to reasons they had likely never heard, even if they were church-goers.
I thought the movie was well acted, solidly written (regarding the main storyline) and, provided great support and encouragement for those in the Christian faith that they can make solid, intellectual and well reasoned arguments for the faith in the face of adversity or even hostility.
I'd also recommend the film to anyone who may have questions about Christianity and have been persuaded by atheist arguments who claim there is not a God or no defense for proving there is a God. The arguments that the movie advances for the existence of God are the main arguments that Christian philosophers like Greg Koukl of Stand to Reason, William Lane Craig of Reasonable Faith and others like them are using on the internet and in debates with atheists around the globe. The movie is entertaining and educational.
I recommend the film for church youth groups, parents with teenage and college age kids, college student ministry groups, and anyone who wants to be better prepared to give a response for the hope that we have as Christ-ones to the growing outspoken and active atheist based audience.
To find out where God's NOT Dead is showing near you, go to their website, http://godsnotdeadthemovie.com. Also, LIKE their Facebook page and share it with all of your friends.
This weekend is the most important weekend for the movie. If we want to continue to see these kind of movies in the theaters, it's imperative that we support them at the box office. So, now that you've read the review…get your tickets!!